Triangle Regional Model Information
The Triangle Regional Model (TRM) is a travel demand forecasting tool for the Triangle region of North Carolina. The study area consists of Orange, Wake, and Durham counties, as well as parts of Chatham, Person, Granville, Franklin, Nash, Johnston, and Harnett counties. The TRM includes adopted highway and transit networks, as well as socio-economic data for 2020, 2030, 2040, and 2050. The highway network includes approximately 22,000 road segments, and the transit network includes approximately 300 transit routes, covering 3,380 square miles.
2050 MTP TRM Data Downloads
MTP 2050 Adopted Highway and Transit Scenarios GIS Data Package (Geodatabase format)
MTP 2050 Adopted Highway and Transit Scenarios GIS Data Package (Shapefile format)
MTP 2050 Preferred Scenario with Interim and Base Year SE Data by TAZ (Geodatabase format)
2050 MTP Development & Demand Modeling
As part of the 2050 MTP process, the Capital Area MPO, DCHC MPO, GoTriangle, and NCDOT, through the N.C. State Intitute for Transportation Research and Education (ITRE), have developed an updated version of the Triangle Regional Travel Demand Model (TRM v6).
The information in the Socio-economic Guide totals PDF document above summarizes the major elements of the socioeconomic forecasts for different portions of the area covered by the region's transportation model (TRM). The estimated 2020 and forecasted 2050 population and employment are key inputs into the TRM, which generates importation travel demand information. For forecast data, the MPO uses a land use modeling process called CommunityViz that uses county-level 2050 guide totals and effectively distributes the population and employment growth across the region.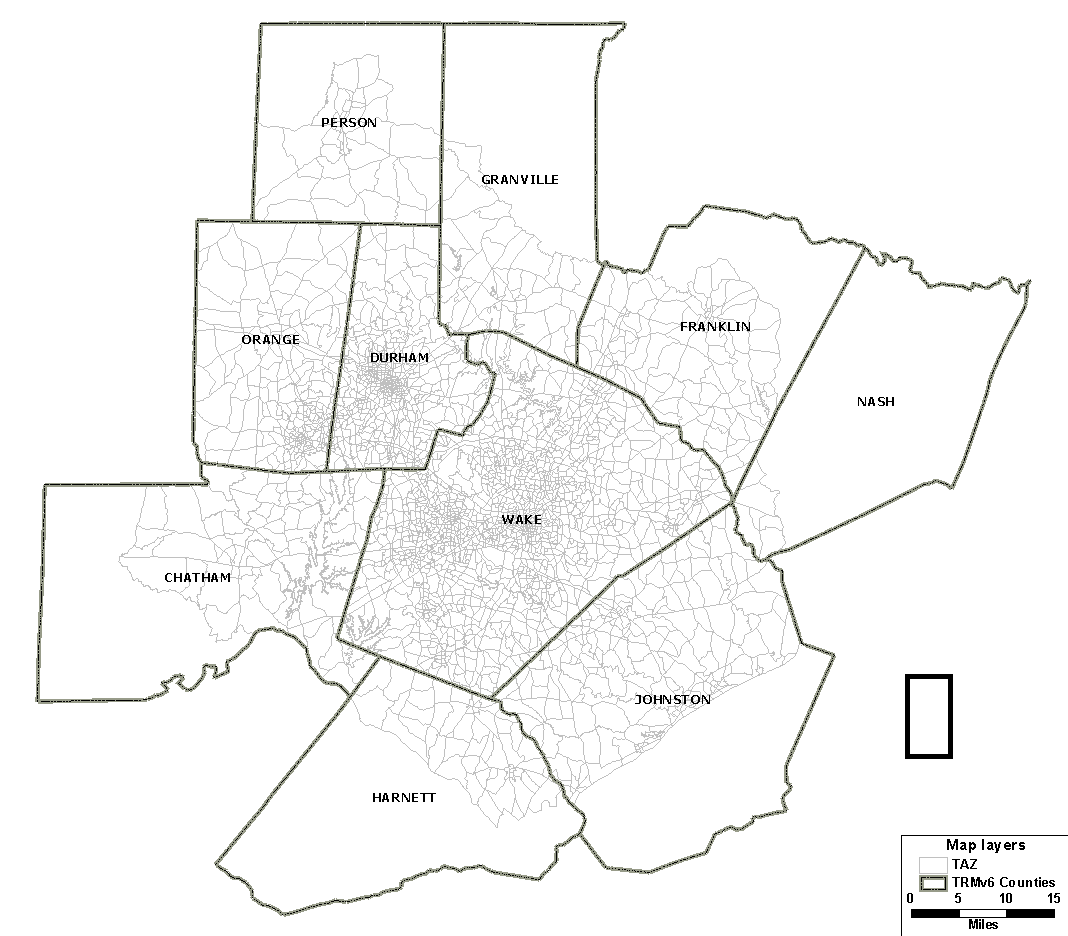 The model is a mathematical representation of the travel demand and capacity for major roads and public transportation services in the region. The TRM incorporates land activity data for each transportation analysis zone (TAZ). The TAZs and transportation networks are used together to create a trip based four-step travel behavior model. The model also includes enhanced features designed to meet the evolving state of multi-modal travel demand modeling, such as:
Air passenger modeling
Eight time of day periods
Forecasting both passenger and commercial vehicle trips
Multiple vehicle types including single occupant and high occupant vehicles
Public transportation and non-motorized modes
Toll Roads
University Student Model (USM)
The TRM is a four-step model based on aggregate trips. The four steps are: Trip Generation (number of trips made, and why), Trip Distribution (where the trips go), Mode Choice (what transportation mode is used), and Trip Assignment (what route and facilities are used). The TRM is a traditional four-step model that utilizes many advanced features, producing an advanced model tailored directly to the needs of the Triangle.
Step 1: Trip generation
Trip generation estimates the number of daily trips that take place in the Triangle. Each trip begins in one TAZ (or external station) and ends in another. The number of trips to and from each TAZ is calculated using assumptions based on household factors, employment statistics, and commercial options. For example, a TAZ with a high population will generate more trips than a TAZ with a high level of retail employment, which will attract more trips.
The TRM uses eight trip purposes for the general population: home based work (HBW), home based shopping (HBShop), home based other (HBO), home based K-12 students (HBSchool), non-home based non-work (NHNW), work based non-home (WBNH) and non-home non-work (NHNW). There are also four university based trip types stratified by on-campus and off-campus. Commercial trips are estimated for three vehicle types: light duty commercial vehicles, single unit trucks, and multi-unit trucks.
Step 2: Trip distribution
Trip generation takes the trips generated in step one and links them geographically into complete trips between a production zone, where the trip originates, and an attraction zone, where the trip ends. The produced and attracted trip ends can be located within the same TAZ, adjacent TAZs, or between TAZs that are some distance apart. Air-passenger trips are a unique case, always starting and ending in the TAZ with the primary regional airport, requiring no distribution estimate.
When modeling these trips, it is assumed that the closer a production and attraction zone are, the more likely the trip will occur. Therefore, most trips generated in a zone will be attracted to nearby attractions, rather than attractions that are further away. The exception to this assumption is commuter trips, where people are more willing to travel longer distances for work than they normally would for commercial trips. Time-of-day factors are applied by trip purpose to split daily trips into two time periods, peak and off-peak. The peak period is the combination of the AM peak (6:00 AM to 10:00 AM) and the PM peak (3:30 PM to 7:30 PM).
As the model iterates through steps 3 and 4, trip distribution is re-calculated using congested traffic speeds. This re-calculation calibrates the model to more accurately represent increased travel times and alternative routing, leading to more consistent and realistic results.
Step 3: Mode choice
Mode choice estimates the travel mode used for each trip, such as personal vehicle, carpool, or public transit. For each trip, the probability of the user selecting each mode type is estimated using assumptions about the type of trip, the traveler, and the relative availability of each mode. Factors in these assumptions include: travel time, cost, accessibility, automobile ownership, and group travel incentives (such as carpool lanes).
The mode choice model uses a nested logit form, which portrays the various travel markets more accurately. The model is nested based on travel modes, as shown in the figure below. The TRMv6 mode choice model is composed of nineteen nested logit models, one for each combination of trip purpose and time of day (peak and off-peak).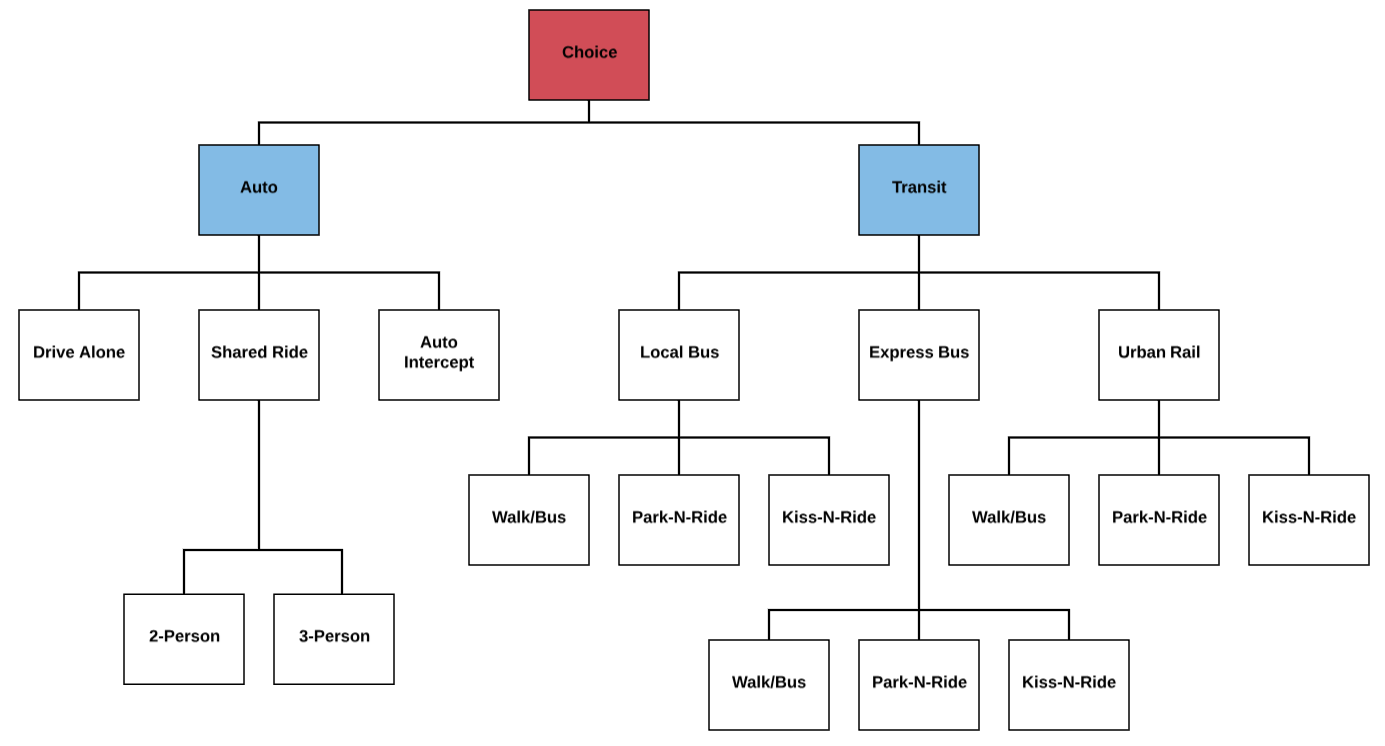 Step 4: Trip assignment
The fourth and final step of the TRM is determining what route is taken for each trip. The first step of trip assignment is building least – cost paths between all zone pairs in the Triangle. There are 2857 TAZs in the Triangle, resulting in 8.2 million least – cost paths. Next, depending on the travel mode, trips are assigned to either the highway network or the transit network.
For highway path building and trip assignment, the effects of congestion are considered in a feedback process that uses road capacity and speed to re-assign trips as necessary to establish an equilibrium (see the Four – Step Regional Forecasting Model graphic).