RFPs, RFQs and Bids
Signup for RFP, RFQ, Bid Notification Emails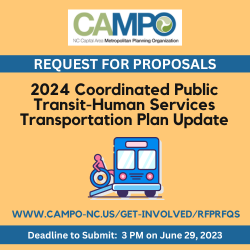 CAMPO is seeking consultant services to update the 2018 Coordinated Public Transit-Human Services Transportation Plan (CPT-HSTP), as amended in 2020. The update shall be prepared with the active involvement of, and consultation with public, private, and non-profit transportation providers, transportation users, and stakeholders throughout the Raleigh urbanized area and the CAMPO planning area with the regional Mobility Coordination Committee (MCC) serving as a steering committee.
The successful consultant will ensure that the updated plan addresses public transit and human service transportation in a manner that enhances mobility for the region's seniors, disabled and low-income persons while focusing on improving coordination and creating efficiencies for the transportation network and existing transit providers. The consultant will also ensure the completed plan meets all local, state, and federal law requirements for potential projects selected for funding particularly under the Wake Transit Plan and the Enhanced Mobility for Individuals and Individuals with Disabilities (Section 5310) Program to be "included in a locally developed, coordinated public transit-human services transportation plan".
This update to the plan will reflect on advances made in the 2018-2019 coordinated plan, the Wake Transit Plan and its updates, mobility coordination efforts, the expected implementation of a new mobility management program in FY 24 and other recent regional programs and initiatives. This work will be completed by June 30, 2024.
2024 Coordinated Public Transit-Human Services Transportation Plan Update

RFP Question Submittal Deadline
Questions must be submitted in writing via email (no phone calls) to Crystal.Odum@campo-nc.us


12 PM EST

June 15, 2023

CAMPO Responses Posted


5 PM EST

June 16, 2023

Proposals Deadline


Deliver Proposals via email as PDF attachments to: Crystal.Odum@campo-nc.us


3 PM EST

June 29, 2023

Proposal Opening

3:30 PM EST
June 29, 2023

Candidate Interviews, if necessary

July 10-14, 2023

Preferred Candidate Selection

July 14, 2023

Contract Negotiations

July 14 - August 14, 2023

Anticipated Notice to Proceed

August 2023

Project Completion

June 30, 2024