Executive Board
The Capital Area MPO Executive Board is the decision-making body of the MPO. It is comprised of elected officials from member governments, as well as stakeholders from other agencies. The Executive Board typically meets monthly at 4:00 p.m. on the third Wednesday of each month, unless otherwise listed on the Calendar.
Agendas
Members
Bylaws
Calendar
Meetings
The Executive Board Bylaws were last amended at the January 18, 2017 Executive Board meeting.
Resolutions
Complete Streets Resolution - August 19, 2020
Complete Streets Resolution - June 19, 2019
Joint MPO Meetings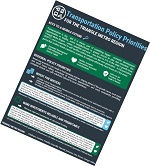 The CAMPO and Durham-Chapel Hill-Carrboro (DCHC) MPO Boards typically hold a joint meeting semi-annually, in the spring and fall.
Joint CAMPO & DCHC Board Meetings

Meeting Date

Document

March 29, 2023
Sept. 29, 2021
Dec. 1, 2020
Jan. 30, 2020
May 29, 2019
Oct. 31, 2018
Submit Comments
Comments can be submitted to the Executive Board by mail, in-person at the office in Raleigh, through the online contact form, or by email to: comments@campo-nc.us.
Ethics Compliance
According to state law, MPO Executive Board members are required to comply with N.C. Ethics Commission mandatory filing and disclosure requirements. Board members must file a Statement of Economic Interest and Real Estate disclosure form prior to serving as a voting member of the Executive Board. Members must update their filings by April 15 of each year or could face penalties. More information, including access to the appropriate forms, is available on the NC Ethics Commission website.