Community Funding Area Program
As one of the "Four Big Moves" of the Wake County Transit Plan, the Community Funding Area Program (CFAP) was created to provide an opportunity for areas in Wake County that would otherwise have limited fixed-route transit services to create or accelerate public transportation services and programs. The plan identifies 10 Wake County municipalities and Research Triangle Park (RTP, as eligible to participate in a competitive process to receive match funding for planning, capital, operating, or combined capital/operating transit projects. To participate, an eligible organization must be a party to the Wake Transit Master Participation Agreement. A detailed description of program policies can be found in the Community Funding Area Program Management Plan.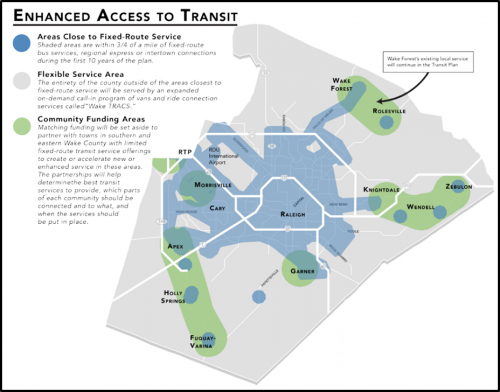 Eligible Community Funding Areas:
Town of Apex
Town of Fuquay-Varina
Town of Garner
Town of Holly Springs
Town of Knightdale
Town of Morrisville
Research Triangle Park Foundation
Town of Rolesville
Town of Wake Forest
Town of Wendell
Town of Zebulon
FY 2022 Community Funding Area Program Schedule
ACTION

DATE

Project Incubation Meetings (By Request)

September 21 – October 2, 2020

Applicant Training (Combined Session)

Week of October 26, 2020

Call for Projects Opens

October 26, 2020

Pre-Submittal Review Meetings

November 16 – November 20, 2020

and

December 7 – December 11, 2020

Call for Projects Closes (Applications Due)

January 8, 2021

CAMPO Staff Scores Submissions

January 11 – January 29, 2021

Selection Committee Review/Recommendations

February 1 – February 26, 2021

CFA Program Funding Recommendations Presentation to TPAC

March 10, 2021

TPAC Recommends Projects in FY 2022 Work Plan

April 21, 2021

FY 2022 Work Plan Adoption

By June 30, 2021

FY 2022 Project Kickoff Meetings

July – August 2021

FY 2022 Project Mid-Year Review Meetings

December, 2021 – February, 2022

Annual Review for FY 2022 Projects

Spring – Summer, 2022
In order to submit an application, a representative from an eligible organization must attend: (1) the applicant training session, which serves as a high-level introduction to the program and covers procedures and addresses issues that are specifc to the upcoming call for projects; and (2) a pre-submittal application review meeting, where a more detailed, project-level review will occur in order for staff to have a complete understanding of incoming applications and to determine application completeness.
A general overview of the Community Funding Area Program and application cycle can be found in slides from a Municipal Meeting held on 9/27/18.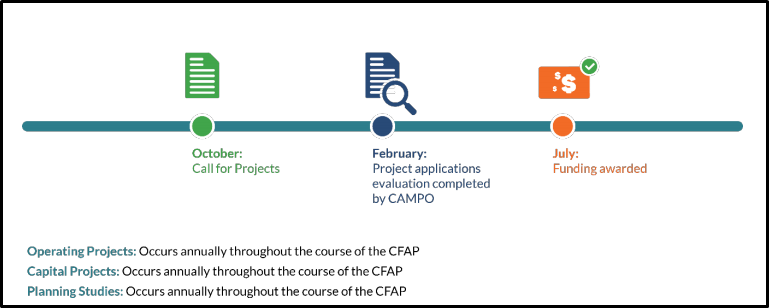 Market Analysis
An analysis of the transportation markets in the eligible communities was completed prior to the roll-out of the Community Funding Area Program. The purpose of this market analysis is to help the communities understand both the need and potential for transit service in and between their communities by examining characteristics that shape the demand and need for public transportation. These findings can be found in the Community Funding Areas Market Analysis.