2050 MTP Development
Process
The MTP takes approximately 18 months to update, and generally occurs every 4-5 years. The following outlines the steps in the update process.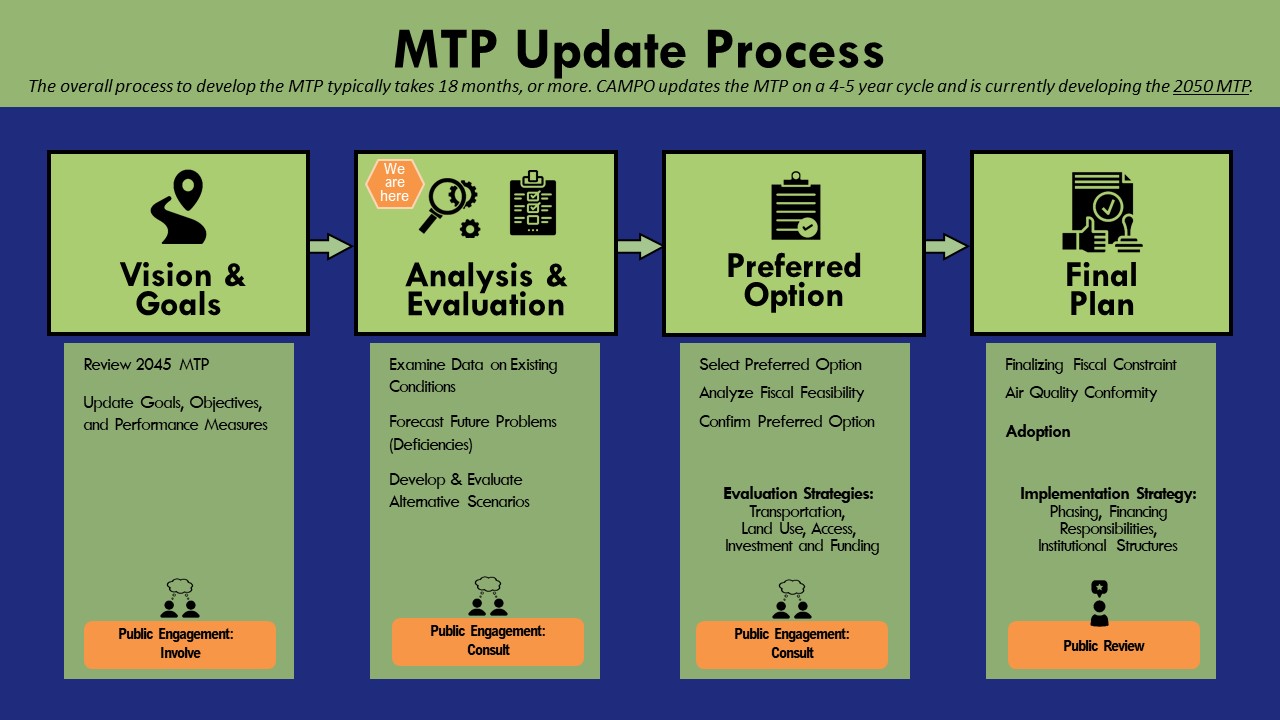 Deficiency & Needs Analysis
The MPO staff has begun development of updated draft scenario alternatives for the 2050 Metropolitan Transportation Plan (2050 MTP/CTP). The first of these scenarios is known as the Deficiency Analysis. This is a baseline scenario for the future that is used to help analyze the various scenarios we use in the upcoming Alternatives Analysis stage. The Deficiency Analysis includes our future projected growth with only our existing and committed transportation network and is used to help inform our forecasts for population, employment, and travel changes between today and our ultimate 2050 horizon year during the Alternatives Analysis. Maps and More...
Socio-Economic Guide Totals
One of the initial critical steps in developing a Metropolitan Transportation Plan is to forecast the amount, type and location of population and jobs for the time frame of the plan, known as Socio-Economic (SE) Guide Totals. Based on an understanding of community plans and data from local jurisdictions, the Office of State Planning, the US Census Bureau and independent forecasters, estimates of "base year" (2016) and "plan year" (2050) population and jobs were developed by local planners for each of the 1,701 small zones (called Traffic Analysis Zones or TAZs) that make up the area covered by our region's transportation model.
The SE Guide Totals are broken into 1) Population Guide Totals, and 2) Employment Guide Totals.
In October 2020, CAMPO's Executive Board reviewed and approved the socio-economic data and totals for use in development of the plan. At a later step in the 2050 Metropolitan Transportation Plan process, the Executive Board will approve the final SE Data with the Preferred Option (for the 2050 MTP).
Goals & Objectives
In the summer of 2020, CAMPO and DCHC MPO conducted a survey to gauge community support for eight (8) proposed goals and their related objectives. That survey closed on August 13. Over 2,000 people participated in the survey and almost one-third of respondents added comments to their responses. Staff are currently working to synthesize the responses.
2050 Goals and Objectives - Approved
Comments Received
A presentation on the preliminary results was shared with the Executive Board at their meeting on August 19, 2020. While summaries are still being developed for the comments, all comments are linked below. Also included below are a set of 11 comments submitted in writing to either MPO during the public comment period.
Scenarios Development